It Is What It Is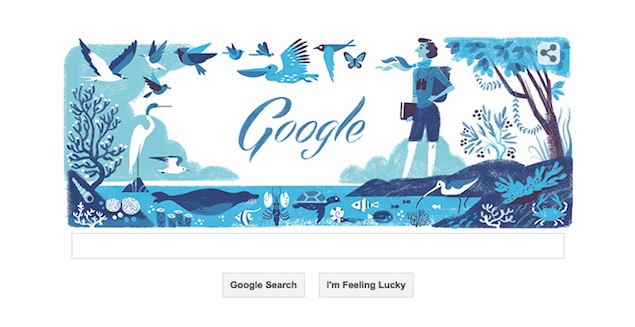 ~~May 27, 2014~~ 
Google Doodles Rachel Louise Carson's 107th Birthday
Google's latest doodle marks the 107th birth anniversary of American marine biologist, author and conservationist, Rachel Louise Carson.
Born in 1907, Carson's work was mainly focused in the fields of marine biology, ecology, pesticides and nature writing. Rachel Louise Carson was also credited with bringing global attention to the problems associated with the conservation of the environment.
Rachel Louise Carson was born in Springdale, Pennsylvania and studied at the Chatham University and, later, the John Hopkins University. Her research into the harmful effects of pesticides on marine life came after studying the synthetic pesticides developed during the Second World War.
The doodle shows Rachel Louise Carson, standing amidst a vast expanse of marine and plant life and birds with a notebook, a backpack and a pair of binoculars.
Google is written in the middle in a calligraphic font.
Carson's first…
View original post 457 more words